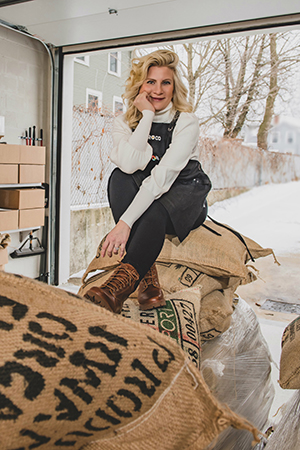 Coroco Coffee Roaster Collective is proud to be a female-owned company. Led by Karen Weckerly, we seek to empower women both as roasters and producers. Many of our coffees assist in the development of woman-led family cooperatives. Fair Trade Cooperatives are a business system designed to help producers achieve better trading conditions to benefit small-scale farmers and workers. Cooperatives are made up of farmers that produce the coffee. These small community associations are democratically structured to allow the producers to participate in decision-making, support each other, and determine how funds will be used from the Cooperative within the community.
Cooperatives like the Kopepi Ketiara Cooperative, deep in the Gayo highlands of Sumatra, are uniting women farmers working to market their coffees. These women seek to invest not only in their farms, but also in their communities and healthcare. We are proud to offer their single-origin coffee under the brand name Flavor Girl™ Sumatra, with a creamy mouthfeel and cocoa and citrus flavors.
Our Flavor Girl™ Honduras single-origin coffee supports a Fair Trade Cooperative. From Marcala, the RAOS Cooperative is helping a group of women producers make their mark on coffee farming. Their mission is to support their members by ensuring gender equity through education. They also provide opportunities by offering training on the farms and integration of women within farms. The women earn a living wage and are able to contribute to their communities. The coffee produced is mild and clean with lemon, almond and toffee flavors and is also featured under the Flavor Girl™ brand.
Fair Trade Cooperatives help build economic stability in communities, create better living standards and brings money back to the communities. They promote workers' rights and health and safety. It can also lead to better environmental practices and sustainable farming to coffee farmers. Whether supporting women and their communities through Fair Trade or other farmer/producers, opportunity and hope is created. When you buy female-produced Fair Trade coffee you are giving the extra gift empowerment through each bag.