Above photo credit: Hannah Persson
These are certainly interesting times to have opened a new coffee roastery and cafe!
Watching stores close and experiencing social distancing when I do dare to venture out to buy groceries has been surreal to say the least. Watching the small businesses in my community and friends in the service industry struggle, I thought I would take a moment to share how we have adapted and upgraded our customer service in the hopes that other small businesses might be able to keep going, keep staff working, and possibly even thrive in these challenging circumstances.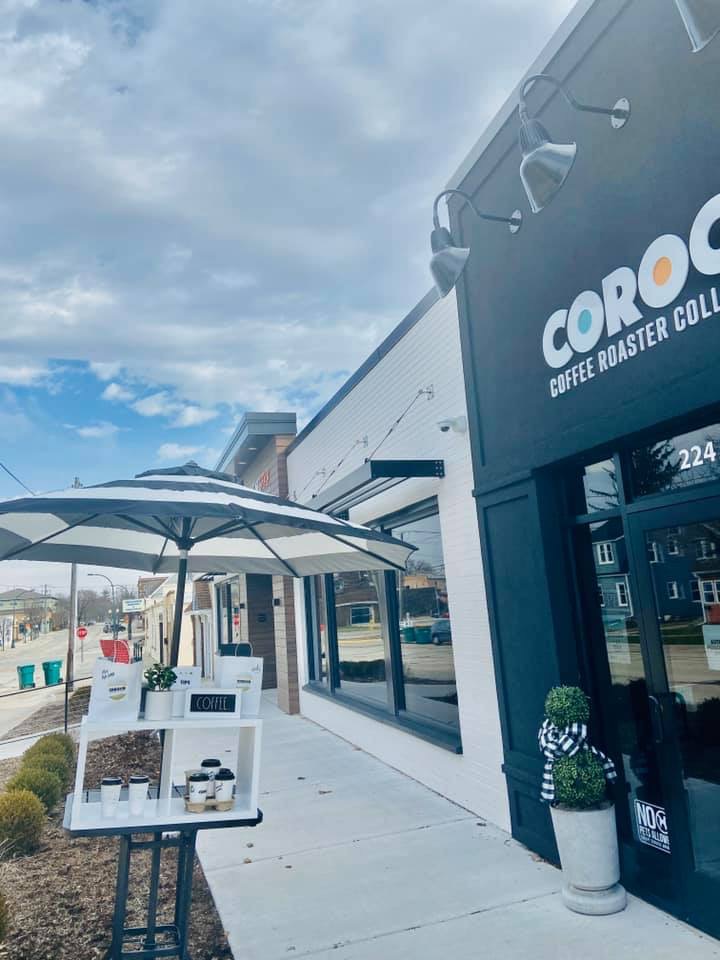 When everything started to change a few weeks ago, we took the very difficult step to close our doors to the public for a week right away. Since we at COROCO are deemed part of the essential workforce because we produce food (we would tend to agree that freshly roasted coffee = essential!), we knew that we needed to take time to re-group, deep clean, and do an updated risk assessment due to our unique layout. If you're new to food safety, a risk assessment is a systematic process of evaluating the potential risks that may be involved in a projected activity or undertaking. There are great examples of current workplace safety protocol, not limited to food, on OSHA Guidance for Preparing Workplaces for Covid-19.
Without having a drive-thru, we knew that having customers enter the shop for the foreseeable future would not be an acceptable risk for us. The health and safety of our staff, their families, and all of our customers had to be the top priority. To keep social distancing, we decided that an online ordering platform would work well for touchless transactions to keep everyone the recommended 6' apart and not handle cash. Fortunately, with a Shopify business website platform developed by our partners at MorningStar Media Group, this change was possible by purchasing an additional tool from their app store called "Simple In-Store Pickup." With the $4.99/month app, customers can choose an available day and time to pick up their coffee from their computer or smartphone, which we can set up in the app for our hours of operation.
Once an order is ready, we set it outside for the customer to pick up. Pretty simple.
Next up was helping our customers feel as though they were still getting close to the same experience we normally offer inside our shop curbside. Everyone is a bit more anxious and craving a tiny bit of normalcy, after all. Working with what was available locally, (with easy to clean, non-porous surfaces), we found a fun patio table and umbrella that we could set outside our door as the curbside kiosk. We added some cubbies, decor and a wireless bluetooth speaker so that there was still "our vibe" as much as possible.
We love waving to our customers and seeing their huge smiles as they find their orders ready and waiting for them, so it helps us keep our spirits up and feel a little bit more like normal too. We have amazing customers and we really miss our coffee chats, so these changes have been super hard. We have spoken to a local craftsman to build us a sturdier kiosk and will share when that is ready to stand up to the elements so that we can keep consistent hours of operation. We are looking forward to that routine being set and being there for our friends and fans on a regular basis.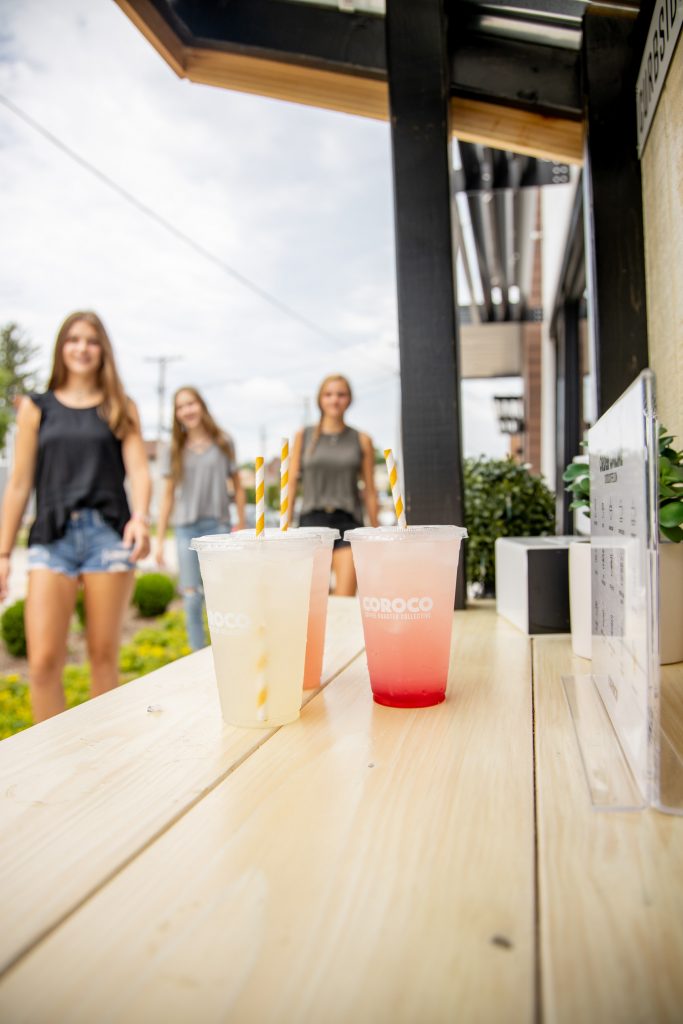 In the shop, much remains the same as we are already a food production facility with good manufacturing practices in place and a stringent health policy. As an additional precaution, we now keep our inside staff to no more than two people at a time and we are closed to any outside visitors. We were already using hospital grade food-safe sanitizers daily, and now we sanitize our work surfaces every hour. To implement the new service system, we had our food safety lead draft an updated policy to include curbside service. We log staff health daily. Between each order, we sanitize the pickup kiosk—trying to be discrete about it whenever possible as to not add to anyone's anxiety. Between each round of sanitizing we wash our hands thoroughly. We keep a sign at the entrance stating "authorized personnel only" and the front door locked so that no one accidentally enters the shop out of habit. We have additional signage with the directions to place orders so we can pantomime through the windows how to order, when needed. The pantomime part is pretty fun, actually. We were clunky and a little awkward the first few days, so that's something to be aware of for businesses making the transition with temperature sensitive items, but we got the rhythm and routines down quickly.
Our community has been extremely supportive since we opened and we are grateful for their continued trust.
It is not something we take lightly. The amount of patience, grace, and respect we see every day as we all adapt is truly heartening. When this period of social distancing ends, and it will in due time,we cannot wait to see everyone in person again for coffee and conversation.