All of us want to help the environment and small changes to your daily routine can create a big difference.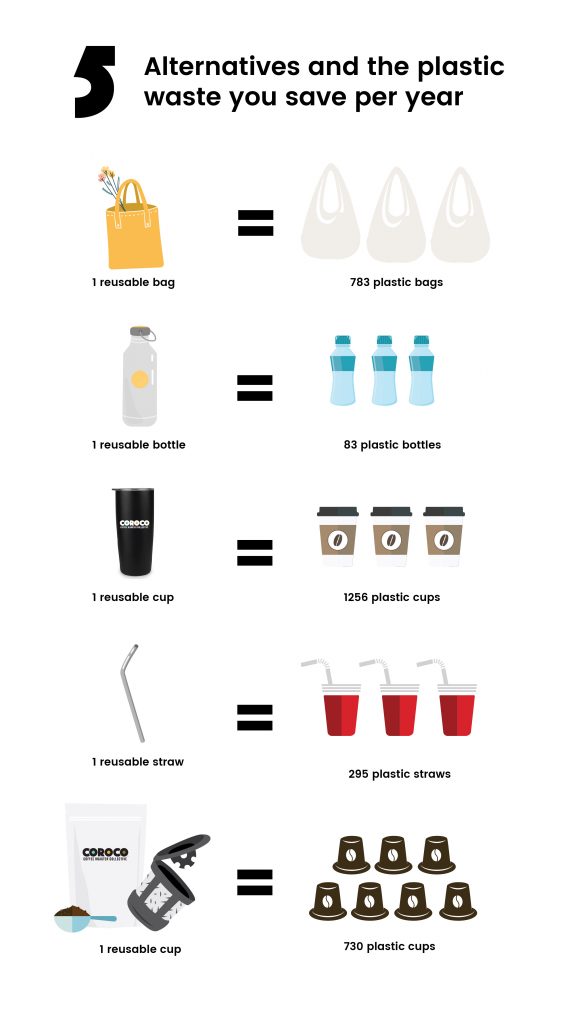 For example, the use of one fabric bag can eliminate 783 plastic bags. A reusable bottle equals 83 plastic bottles saved. A metal straw can replace 295 plastic straws and help wildlife and our collective environment. Not to mention that our favorite reusable coffee cup saves the world over 1256 plastic cups. While many of us have made the leap to bags, bottles, straws and cups we still hesitate at reusable K-Cups for our coffee. At only two cups of coffee or K-pods a day, that's 730 disposable K-pods added to the landfill a year. Whereas only one reusable K-Cup is needed to take its place. Ask anyone and you'll find the reason for not using them are usually twofold; one-they take slightly more time to use than disposable pods, and two, many aren't sure how much coffee to fill them with and often end up with coffee that is too strong or too weak.
Many coffee stores/roasters interested in the environment often offer special deals or K-cups with purchase of coffee. Coroco has, and it's worth watching our website to get some great beans and a free reusable stainless K-Cup at the same time with the discount code: GREEN.
To use the stainless steel K-Cup replacement filter, you will need to know how to grind for your filter and how much coffee to use per cup. One of our favorite at-home grinders is the Baratza Encore Burr Grinder from prima-coffee.com. It is user friendly and at $139 a great entry-level grinder. Grind your beans like you would for your automatic drip coffee filter, but just a little finer. Beware of going too fine as you do not want to block the filter. With a ratio of about 2 TBSP to a 6 ounce cup, your K-Cup should deliver a great cup of coffee.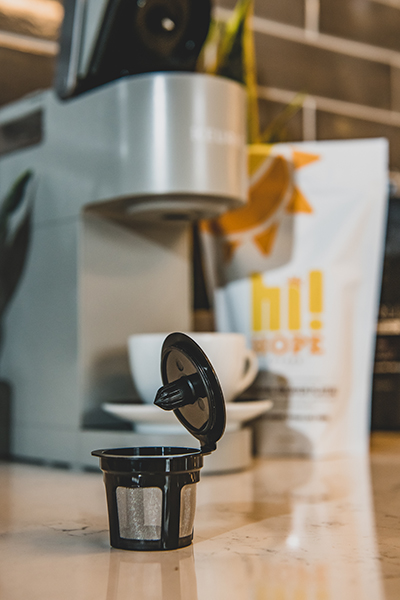 Next, dark roasts often work better and deliver better flavor from K-Cups. Coroco Coffee offers a variety of dark roasts. Interlude™ Espressivo which offers flavors of chocolate, almond, honey and berries, or "Diner™ I'll Have The Usual," a fresh, friendly, familiar dark roast. Propeller™ Dauntless blend is another customer favorite dark roast, which brings flavors of leather, baker's chocolate and Brazil nut on the finish. Reusable K-Cups are also easy to clean, just rinse out the grounds and most are dishwasher safe on the top rack. They save money and allow you more coffee choices too.
Taking the time to fill your reusable K-Cup is like picking up your water bottle, metal straw or fabric bag. The use of this eco-friendly product allows you to reduce your carbon footprint and freshly grind your coffee each day.  A reusable K-Cup filter offers a solution to the trash left behind and saves you, the coffee drinker, money by using ground coffee with reusable cups instead of one time K-pods. The environment will also benefit, as currently billions of used pods fill landfills. An additional benefit of reusable K-Cups is the ability to compost coffee grounds, another environmental benefit. Reusable K-Cups are a small change in routine with long term positive effects.